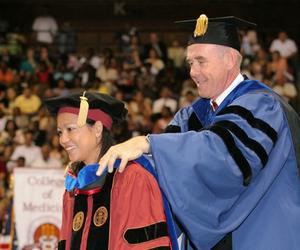 Each year more than 300 doctoral, 2,000 masters, and 300 professional students graduate from Florida State University to begin successful careers in academia, industry, government, and other sectors of our communities. Read on and get acquainted with some of our alumni. You can also learn more about what FSU is doing to prepare its graduates to make a difference in society.
FSU Alumni Association
All alumni, friends and fans are encouraged to join the FSU Alumni Association as a way to stay connected to Florida State.
Membership in the FSU Alumni Association strengthens our university, increases the value of your FSU degree and provides programs and services for fellow alumni and students nationwide, including:
Stay informed about graduate education at Florida State University. The  Graduate School Newsletter includes notification of upcoming events of interest to current graduate students, articles on research and teaching activities, listings of presentations by graduate students and meetings, and stories about students.
The Fellows Society brings together our outstanding graduate students who hold competitive university-wide fellowships for the purpose of interdisciplinary learning. Each year a small group of our most outstanding graduate students are designated as Legacy Fellows. These annual and multi-year fellowship awards enable these students to focus on their education and research. The Fellows Society includes these students as well as recipients of the Wilson-Auzenne Fellowship, McKnight Fellowship, Gubernatorial Fellowship, and all other fellowship recipients administered by the Graduate School.
To attract the best and brightest students to Florida State University and to sustain and continually enhance the quality of the graduate educational experience, we must rely on gifts from our friends and alumni who share our vision of excellence. By supporting the Graduate School, you have the opportunity to invest in students who are acquiring the analytical and leadership skills needed to face global challenges with creativity and intellectual rigor.
title-inside title-centered
2