The Preparing Future Faculty Program assists Florida State's doctoral students (and others headed toward academic careers) prepare for future faculty work. Through participation in coursework, workshops/seminars, and/or online training, and mentoring, PFF Fellows increase their awareness of expectations for faculty performance and of resources available to aid in scholarly careers, and build their readiness to address research, teaching and related demands of faculty life. Goals include enhancing the placement of FSU students in university positions and supporting the finest scholarly accomplishments of FSU's graduates in their future careers.
Florida State's Preparing Future Faculty Program has five components: Research; Teaching; Career Building; Mentoring; and Portfolio. The program is offered by The Graduate School with the cooperation of the FSU Office of Research , Career Center , Office of Distance Learning , a number of Florida State academic departments and colleges, as well as partner institutions (e.g., Tallahassee Community College).
Fellows who meet specified requirements, often involving participation over a two-year period, are awarded a PFF Graduate Certificate, but individuals may participate in PFF events without the intent of earning a PFF Certificate. The PFF Graduate Certificate Program is an academic certificate program that requires 12 credit hours. Therefore, a notation will be included on the transcripts of students/postdoctoral associates who complete the PFF Graduate Certificate Program.
Individuals who wish to take part in PFF activities, regardless of whether they seek to identify as Fellows or earn Completion Certificates, should self-register for the Preparing Future Faculty organization site in the FSU Canvas System (after login, select Organizations tab, and then search "Preparing Future Faculty").
FSU's PFF program coordinates with the national Preparing Future Faculty (PFF) initiative of the Council of Graduate Schools, and the Association of American Colleges and Universities, involving 45 doctoral degree-granting institutions and more than 300 partner institutions.
---
Overview of PFF Certificate Requirements
PFF certificate requirements fall into five areas: Research, Teaching, Career, Mentoring, and Portfolio.
Twelve graduate credit hours, with at least one course in each of these areas: Research, Teaching and Career, with at least six of those hours letter-graded
Workshops/seminars/colloquia and/or online instructor training related to the areas of Research, Teaching and Career
Attending two interviews of prospective FSU faculty
Interviewing two faculty at institutions other than FSU (e.g., Valdosta State, TCC)
Portfolio (capstone activity)
---
PFF Fellows
In order to begin working toward earning the Preparing Future Faculty Academic Certificate, students must complete and submit an application. For more information or to schedule a meeting, contact Dr. Judith Devine, at 644-3501 or jdevine@fsu.edu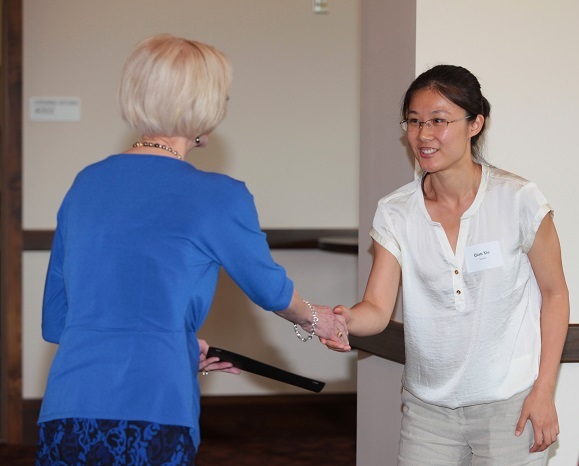 title-inside title-centered
2