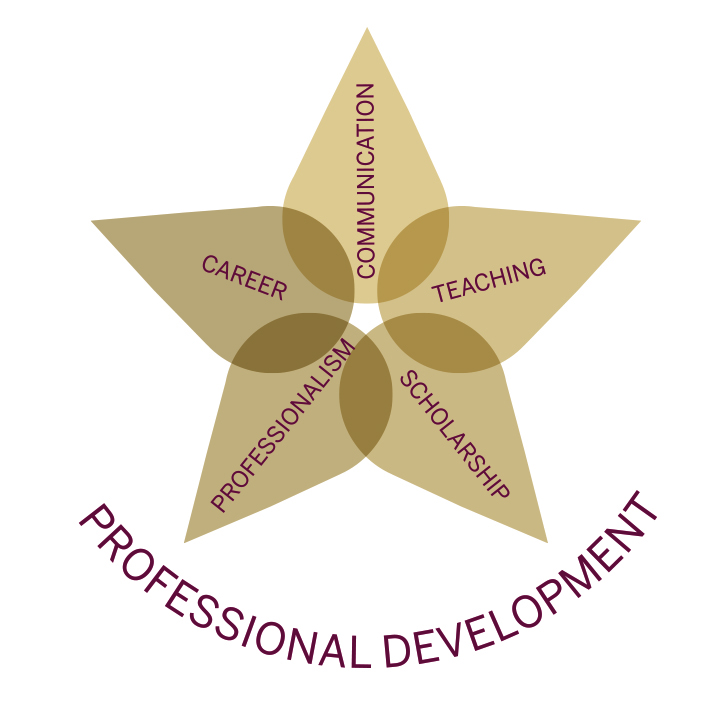 The Graduate School partners with the following units in offering professional development workshops during the academic year and summer terms as well.
---
The University Libraries offers many research-oriented workshops that may be used to meet requirements of the Preparing Future Faculty and Preparing Future Professionals Certificates. Workshops are intended to provide opportunities for graduate students and postdocs to develop the following five core competencies: Communication, Teaching, Scholarly Development (advanced knowledge and skills), Professionalism (leadership, ethics, transferable skills), and Career Development. Each workshop listed below has one or more competency labels. Workshops are also intended to be appropriate at one or more stages of graduate study or postdoctoral experience: Early stage, Middle stage, Late stage, or All stages. Students and postdoctoral scholars may attend workshops more than once and during any stage. The labels simply provide suggested attendance time-frames and core competencies. Some of our workshops are conducted every other year.
-For a matrix of recurring professional development opportunities grouped by core competency and labeled by stage of study, click here.
-For a catalog of professional development opportunities that recur on a regular basis, during the fall, spring, and/or summer semesters, every other semester or every other academic year, and may be appropriate for one or more of the five competencies described above, click here.
-For an Individual Development Plan (IDP) template that facilitates specific, attainable and measurable goal setting, click here.
---
Upcoming Workshops in June
---
Building a Career Portfolio
Friday, June 18, 2021; 12:00 PM – 1:00 PM
Provided Virtually Via Zoom
Presenter: Megan Crowe (Graduate Career Liaison)
Description: Have you been asked to provide a portfolio as part of an application? Want to have one prepared to highlight your work and skill sets? Learn how to build an online portfolio using FSU's customized e-Portfolio system, Folio, to help you get organized, showcase your skills and accomplishments, and stand out from the crowd!
Register Here: https://bit.ly/3g8cbYR
---
Upcoming Workshops in July
---
Storytelling as an Approach to Academic Writing
Thursday, July 8, 2021, 5:00 PM- 6:00 PM
Provided Virtually Via Zoom
Presenter: Dr. Jude Marr, Director of the FSU Writing Center
Description: A good story has a strong beginning, a page-turning middle section, and an ending that satisfies the reader. We often think of academic writing as a completely different discipline than creative writing, but academic writers also need to engage an audience in the outcome of their research. This workshop will explore storytelling as an approach to organizing, structuring, and fine-tuning your writing with a view to making your thesis, dissertation, or writing for publication stronger, more focused and more compelling. 
Zoom Presentation Registration: https://fsu.zoom.us/j/98852292653
---
GradWorld FSU Overview and Tutorial (PFF/PFP)
Friday, July 9, 2021; 2:00 PM – 3:00 PM
Provided Virtually Via Zoom
Presenter: James Beck (Graduate Policy Program Coordinator, Co-Creator of GradWorld FSU)
Description: Join James Beck in exploring the exciting GradWorld FSU resource. Learn more about this wonderful platform in order to showcase your graduate student achievements and tremendous contributions to the university and the world at large. This workshop will cover a variety of topics including the steps on how to create a GradWorld video of your own to share with your friends, family and your global network. More and more students are realizing the extraordinary professional benefits to creating a video for GradWorld FSU as it gives them an opportunity to showcase their personality, research, skills and passion to potential employers. The GradWorld FSU website is also closely linked with the Career Center and many students have reported its positive role in their career development and employment opportunities.
NOTE: The zoom link will be provided after you register for the workshop.
Register Here: https://fsu.zoom.us/meeting/register/tJYkde2vpjwqH9PjH1J1-M5PMY3WFVzd54OC
---
Job Search Strategies
Friday, July 23, 2021; 12:00 PM – 1:00 PM
Provided Virtually Via Zoom
Presenter: Megan Crowe (Graduate Career Liaison)
Description: Provides an overview of key steps in the job search process, including job search myths, a discussion of various job search methods, essential job search tools and strategies, and how to make the process more manageable! This workshop will provide a demonstration of using some of the Career Center's job databases for your searches and career research.
Register Here: https://bit.ly/3iaiJbZ
title-inside title-centered
2