---
University Highlight
Florida State University, distinguished as a pre-eminent university in the state of Florida, is identified by the Carnegie Classification of Institutions of Higher Education as engaged in very high research activity, the highest status accorded to a doctoral-granting university. The wide-ranging scholarship of FSU faculty and graduate students is nationally and internationally recognized for its contributions to science, business, government, culture, and society. FSU faculty members are also recognized for their exceptional level of instruction.
---
Featured Graduate News Stories
---
Upcoming Workshops, Events & Deadlines 
---
---
FSU to celebrate Black History Month during February
Florida State University's Black Student Union and the entire university community will come together during the month of February to celebrate Black History Month.
This year's theme, "The New Harlem Renaissance," reflects the goal of highlighting the social and artistic excellence within the modern black community. The monthlong journey will feature programming that celebrates the "golden age in African-American culture," while highlighting the cultural excellence of today. 
"This Black History Month, we embark to rekindle the social and artistic explosion of excellence within our community," said Tatiana Smith, a coordinator for the Black Student Union. "As African-Americans flocked to Northern cities in the 1920s, they created a new social and cultural landscape. This period in time is considered a golden age in African-American culture — manifesting in literature, music, stage performance and art. Although we have come a long way from the year 1920, the cultural excellence of the Harlem Renaissance is still alive, hence the significance of our New Harlem Renaissance theme."
The celebration kicks off at 7 p.m. Thursday, Feb. 1, with an opening ceremony at the new Black Student Union House, 921 W. Jefferson St. The event will focus on the meaning behind this year's theme and will feature art, entertainment and refreshments.
---
FSU's Online Graduate Programs Shine in New U.S. News Rankings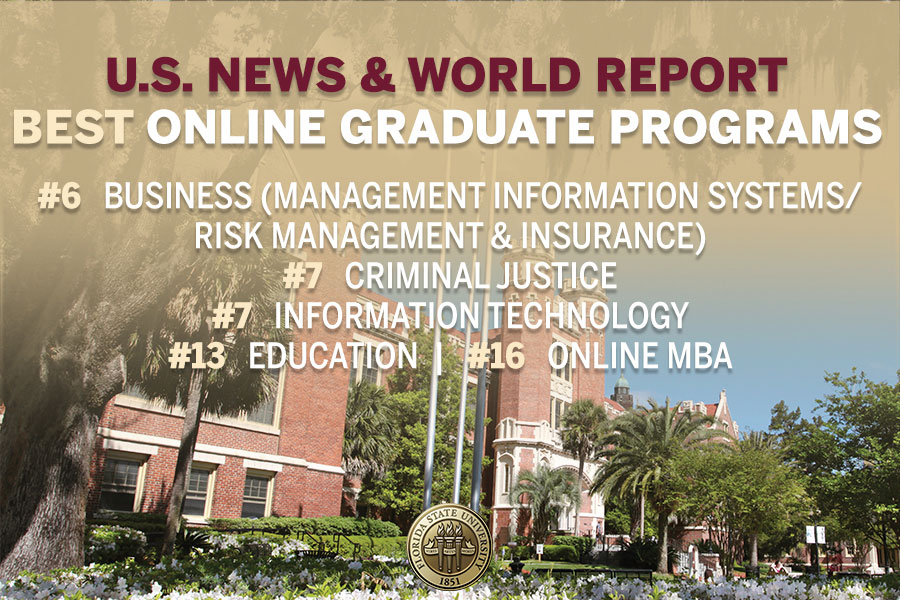 Florida State University's online programs are among the best in the nation — highlighted by five graduate programs ranked in the Top 20 and three in the Top 10 — according to U.S. News & World Report's 2018 Best Online Programs.
"We are pleased with the national recognition of our online programs, especially those ranked in the Top 10," said Sally McRorie, provost and executive vice president for Academic Affairs. "These rankings reflect FSU's strong commitment to student success."
FSU's Top 10 online graduate programs are: business (management information systems/risk management and insurance) (No. 6), criminal justice (No. 7) and computer information technology (No. 7). Florida State's online education graduate program checked in at No. 13, while its online MBA program remained at No. 16 in the latest rankings.
"It's always exciting to see the online rankings results," said Robert Fuselier, director of the Office of Distance Learning. "Every year the competition between institutions grows, and FSU's online programs continue to rank among the highest in the nation. I believe this reflects our dedication to offering a quality educational experience for our students."
The College of Business' online programs in management information systems and risk management and insurance moved up three spots to No. 6 in the latest report and placed No. 5 among public institutions. The college's MBA online program retained its No. 16 place overall in a highly competitive field.
"These high marks indicate the great progress we've made toward establishing preeminence among our nation's leading business schools," said Michael Hartline, dean of the College of Business, which houses the Dr. William T. Hold/The National Alliance Program in Risk Management and Insurance. "We take great pride in offering online programs that are taught by the same full-time faculty members who teach on campus. Our online students benefit from an affordable and flexible program infused with an innovative curriculum that equips them to move forward in any industry they choose."
---
Retired Dean Nancy Marcus, Receives Stellar Send Off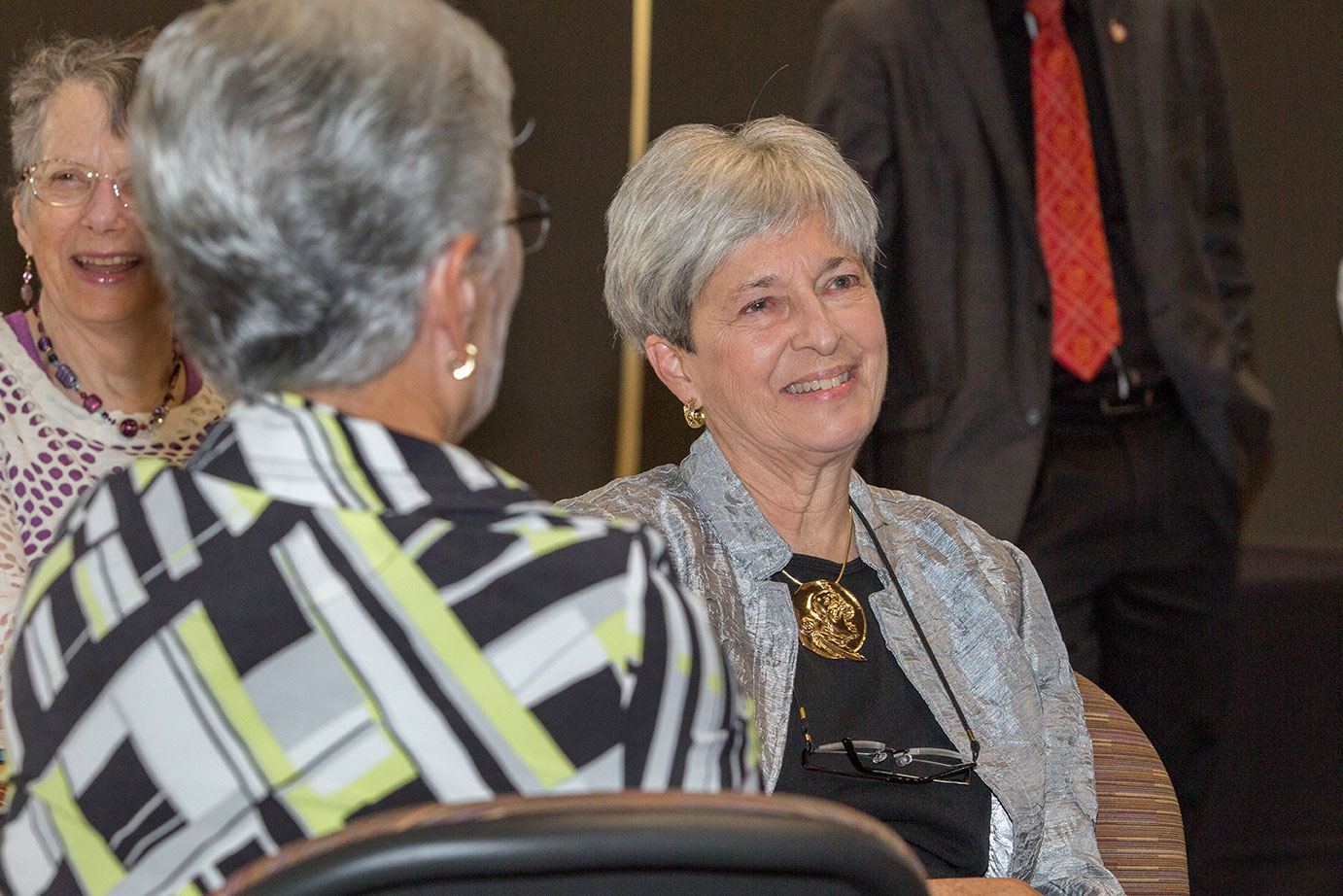 It was a standing-room-only crowd at the Honors, Scholars and Fellows House Wednesday, Sept. 6, as students, faculty and staff gathered to celebrate the retirement of Nancy Marcus.
Marcus is stepping down after 30 years at Florida State University, including the past 12 as dean of the Graduate School. She previously served as chair of the Department of Oceanography, as it was previously called, as well as director of the Marine Laboratory and the FSU Women in Math, Science and Engineering program.
She was named the Robert O. Lawton Distinguished Professor in 2001. The distinction is the highest honor FSU faculty can bestow upon a colleague.
Friends and colleagues of the retired dean offered congratulatory remarks, including President John Thrasher.
"Nancy, I will miss you," Thrasher said. "You have served our students and this university well. FSU is a better place because of your teaching, research and service. Thank you for everything you have done."
The surprise of the evening had to be the presence and remarks from Marcus' brother, Teddy, who traveled from New York to celebrate with his sister.
He talked about how he felt he grew up in his sister's shadow. He told attendees about her love for magic, and even the fact that Marcus is an accomplished ventriloquist. He closed by sharing sentiments from their 94-year-old mother who could not make the event.
"These words come with my love for a job well done … I'm proud of her accomplishments and vain enough to say so," he read.
Marcus was given a host of gifts celebrating her service to the university, including a commemorative brick on the Westcott Plaza. The brick was Marcus' only parting request, but her colleagues took it a step further. They also arranged for a commemorative bench to be placed near the Honors, Scholars and Fellows House — a building she was instrumental in creating.
"It's really been a great privilege to be a faculty member at Florida State University and be the dean of the Graduate School," Marcus said. "Seeing the pictures flash on the screen reminds me of all the things I was involved with over the years through the great breadth of this university."
Continue Reading and View Pictures of the Event Here! 
---
---
title-inside title-centered
2