---
University Highlight
Florida State University, distinguished as a pre-eminent university in the state of Florida, is identified by the Carnegie Classification of Institutions of Higher Education as engaged in very high research activity, the highest status accorded to a doctoral-granting university. The wide-ranging scholarship of FSU faculty and graduate students is nationally and internationally recognized for its contributions to science, business, government, culture, and society. FSU faculty members are also recognized for their exceptional level of instruction.
---
Featured Graduate News Stories
---
Preparing Future Faculty Certificate
Click Here to Learn More!
The Preparing Future Faculty Program assists Florida State's doctoral students (and others headed toward academic careers) prepare for future faculty work. Through participation in coursework, workshops/seminars, and/or online training, and mentoring, PFF Fellows increase their awareness of expectations for faculty performance 
Preparing Future Professionals Certificate
Click Here to Learn More!
To prepare graduate students for professions outside of academia, the Graduate School offers a PFP graduate certificate that includes coursework, professional development workshops, an internship/practicum or interviews in the field, and resume´ and portfolio development.
---
Upcoming Workshops, Events & Deadlines 
---
---
FSU Graduate School Sees Major Increase in Applications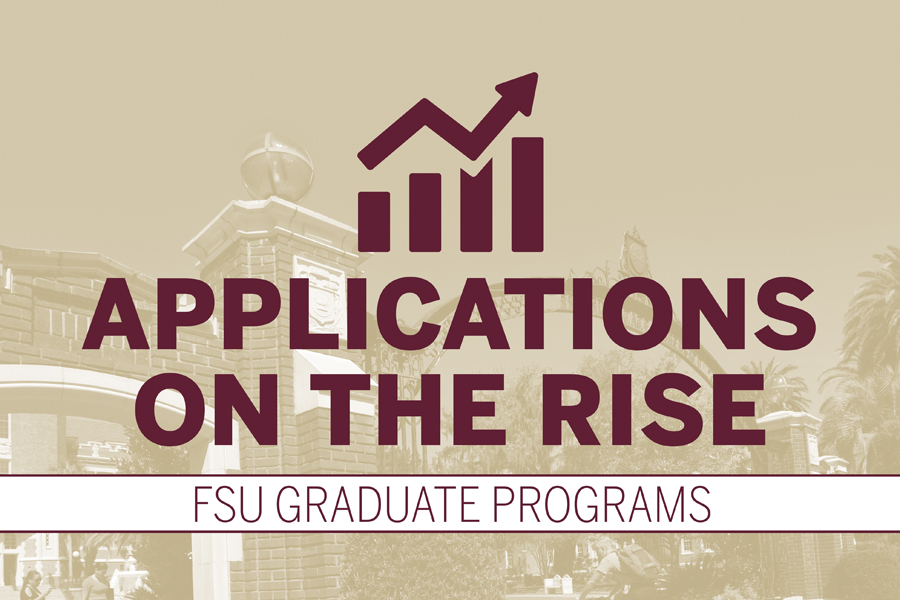 Florida State University has seen a significant increase in the number of applications for graduate school for the upcoming summer term.
The number of applications for admission to the FSU Graduate School has more than doubled since last summer.
There are currently 7,863 graduate students enrolled in FSU advanced degree programs, including the College of Medicine and the College of Law. Since the fall 2017 application cycle, FSU has received more than 10,000 applications for admission to its graduate programs.
"I believe there's excitement surrounding FSU," said Mark Riley, interim dean of the Graduate School. "People are hearing about it, and it is certainly a university on the move. They are hearing loud and clear how spectacular the education opportunities are at this university."
Riley also credits the use of a new application management and communication system for the increased interest in graduate studies at FSU. In August, the Graduate School, in conjunction with the Office of Admissions, designed, built and deployed a new web inquiry tool for prospective students.
Since its launch, 41 percent of prospective students who completed an initial web inquiry form started a formal application. Of those students who started formal applications, 61 percent actually completed a graduate application.
"This was a game-changer because of our ability to now strategically market to prospective applicants," said Brian Barton, associate dean for Business Operations at the Graduate School. "Now we are able to not only send marketing messages, but we can personalize those messages. It's all about creating the connection, so they can visualize seeing themselves here at FSU."
A new graduate enrollment team also is working behind the scenes to reach prospective graduate students. The positions were created by the Office of the Provost in alignment with the university's most recent strategic plan and at the direction of the Subcommittee on Graduate Recruitment.
"This is a group of superstars," Riley said. "A team of four has just come aboard this year, and they are doing incredible things. They are going out to see how we can improve the departments and colleges and work together to further enhance graduate education at FSU."
---
FSU Honors Graduate Students for Teaching, Scholarship and Service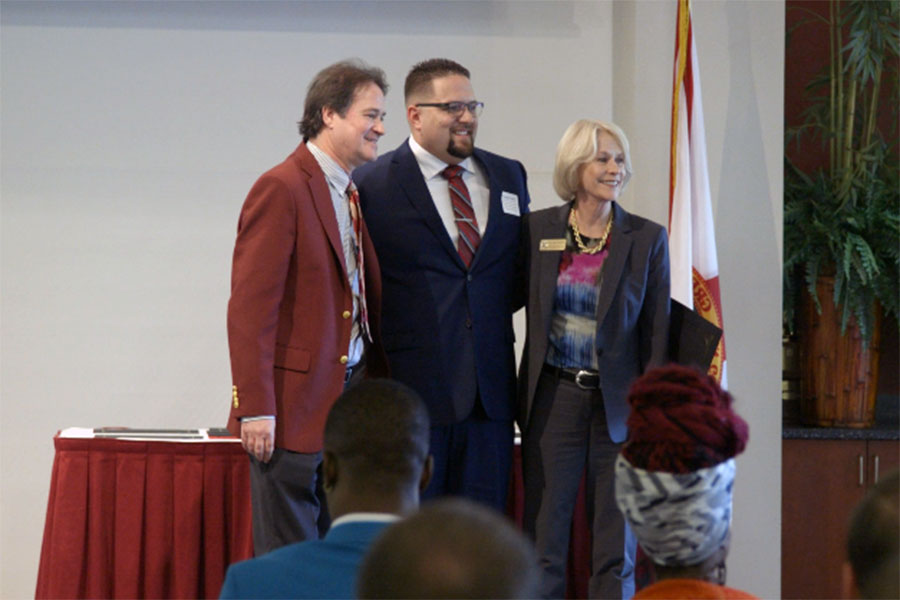 Florida State University Graduate School held their annual celebration of Graduate Student Excellence on Tuesday, April 10, an opportunity to honor the best and brightest within graduate education at FSU.
Mark Riley, interim dean of the Graduate School, presided over the program.
"Your contributions are truly vital to the university," Riley said. "I am confident that you'll keep being absolutely brilliant and continue to contribute to the excellence of this great institution."
Riley also took the time to honor his predecessor, Nancy Marcus.
"I wish Dean Marcus was here," he said. "What she achieved at FSU and what she did to propel the graduate experience forward was really, truly beyond epic. So much of what you enjoy as a graduate student at FSU is because of her."
Provost Sally McRorie also attended the event and provided remarks of greeting, thanks and congratulations.
"I can't thank you enough for all the help that you provide," McRorie said. "I know how much graduate students are engaged in their own work, but also helping to prepare younger students to succeed."
Jorge Piekarewicz, a longtime physics professor, provided the plenary address. He encouraged students to remain true to themselves and remain curious.
"As you all continue to move forward in your research activity and creative endeavors — whether understanding our genetic blueprint, the genius of Mozart or the origin of language — embrace the challenge and state unapologetically that you do what you love for the simple pleasure of finding things out," Piekarewicz said.
Dozens of students were recognized in the areas of teaching assistance, leadership, visual arts, research and creativity.
Kate Pierson, a doctoral candidate in the School of Theatre, was recognized for her service as a teaching associate in the Program for Instructional Excellence (PIE).
"I think it's great to recognize everyone who's doing really important work, and I feel honored to be a part of the work that's being recognized," Pierson said.
She also received the John F. Liseno Award that assists in covering travel expenses for PIE teaching associates who desire to present their research at a national or international conference.
Pierson's research focuses on teaching sensitive subjects and dealing with potential "hot moments" in the classroom. She said she is grateful for the PIE program because it allowed her to engage in an interdisciplinary environment.
"Moving forward, I feel prepared to go out into the world and know how higher education as a larger area functions," Pierson said. "I feel I'll be able to mentor undergraduates about the process of applying to graduate programs."
Students who received external awards, grants and fellowships also were recognized, along with graduate faculty mentors.
The Full List of Winners Can Be Found Here
---
Florida State Sees Across-the-Board Upward Climb in U.S. News Graduate School Rankings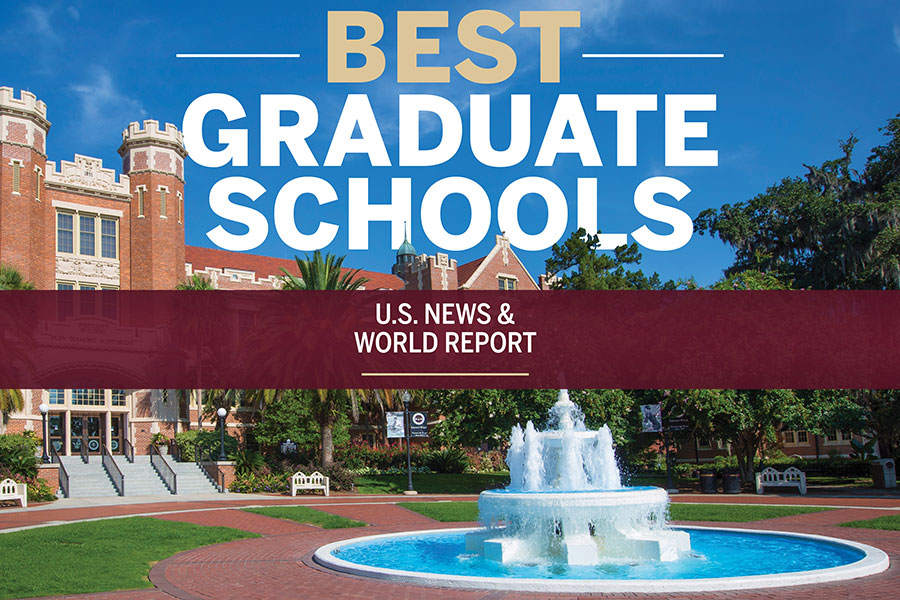 Florida State University's graduate and professional programs are on the rise, according to U.S. News & World Report's 2019 edition of "Best Graduate Schools."
FSU's graduate programs in criminology, business, law, education, nursing and engineering all made significant jumps in the publication's annual rankings, released March 20.
"These new rankings reflect Florida State University's ascent in national prominence as one of the top research institutions in the nation," said Sally McRorie, provost and executive vice president for Academic Affairs. "This is evidence of the excellence of our faculty and students across a breadth of disciplines."
Florida State's College of Criminology and Criminal Justice cracked the top 5 in the latest rankings, moving up two spots to No. 5 in the nation.
"We are pleased that our college continues to be recognized as a national and world leader in academic excellence with renowned faculty and highly gifted students," said Thomas G. Blomberg, dean of the College of Criminology and Criminal Justice and Sheldon L. Messinger Professor of Criminology.
The College of Law inched up one spot to No. 47 in the nation and held steady at No. 24 among public universities. Its environmental law specialty climbed four places to No. 10 on the list.
"We are thrilled that U.S. News continues to rank FSU among the nation's top law schools and that we continue to improve in these rankings," said Erin O'Connor, dean of the College of Law. "We also are delighted that the strength and robustness of our environmental program is reflected in the No. 10 ranking."
Florida State's part-time MBA program at the College of Business secured a spot among the Top 25 public universities nationwide. FSU's program ranks No. 44 overall, vaulting 27 places from last year's No. 71 position. Among public universities, FSU soared 19 spots to No. 25, up from No. 44 last year.
"This new ranking is a high mark for us and reflects progress on our path to preeminence," said Michael Hartline, dean of the College of Business. "We are incredibly fortunate to be able to recruit highly qualified candidates from the Tallahassee area for our evening, part-time MBA offering. We find part-time students enter our MBA program with substantial and varied work experiences that enrich classroom discussions and add to our faculty's rigorous instruction."
The College of Social Work's graduate programs remained at No. 38 in the latest national rankings and checked in at No. 25 among public universities.
"We are very pleased to maintain our ranking gains and remain first in Florida among social work graduate programs," said Jim Clark, dean of the College of Social Work. "The College of Social Work's faculty and staff are doing important work that is garnering national attention in education, research and service."
The College of Education's graduate programs jumped six spots to No. 46 nationally and rose to No. 35 among public universities.
---
---
title-inside title-centered
2