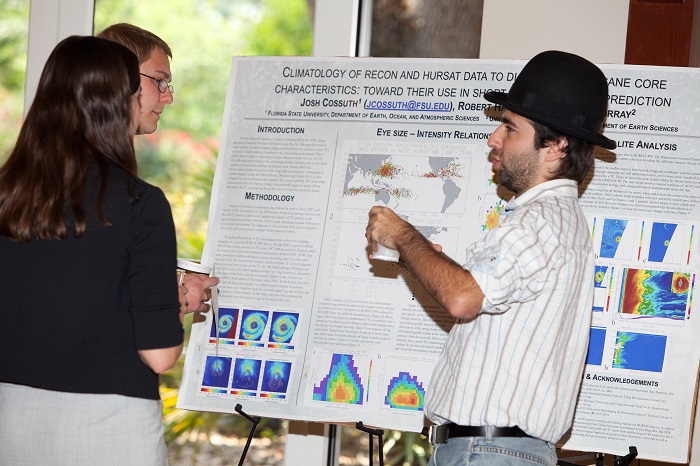 Our extensive graduate programs make Florida State University an intellectually stimulating environment for graduate students. FSU offers leading graduate and professional programs. Ranking among the nation's top twenty-five public universities are programs in Atmospheric Sciences, Business, Chemistry, Creative Writing, Criminology, Ecology and Evolutionary Biology, Higher Education, Information, Law, Marketing, Meteorology, Physics, Political Science, Psychology, Public Administration and Policy, Social Work, Sociology, Spanish, Statistics, and Urban and Regional Planning.
As a graduate student at FSU, you can be actively involved in research under the direction of one of our distinguished faculty or through jobs and internships in various departments. Graduate Research Assistantships offer exciting opportunities to participate in on-going research developments at FSU.
Florida State University is a Carnegie Doctoral/Research Extensive institution that emphasizes the importance of student research.
---
Florida State University offers an extensive range of graduate and professional programs. Graduate education at FSU includes over 121 master's degrees, 24 specialist degrees and 78 doctoral degrees. Professional degrees are also offered in the College of Applied Studies, College of Law, College of Nursing and College of Medicine.
Combined bachelor's/master's pathways provide academically talented undergraduate students an opportunity to complete both a bachelor's and a master's degree. Upon approval, a combined bachelor's/master's pathway allows for up to 12 graduate hours to be shared with, or double-counted toward, an undergraduate degree program. A student enrolled in a combined pathway will earn the baccalaureate degree upon completion of the undergraduate program and master's degree upon completion of the graduate program. 
Joint graduate pathways provide qualified master's students with an opportunity to earn two master's degrees or master's/professional degrees from two academic degree programs. Joint graduate pathways share academic content that allows a student to expand their breadth of knowledge and content expertise to include additional domains not covered in a single degree. All post-baccalaureate degree programs must have at least 30 unique hours of coursework. Upon approval, joint graduate pathways allow graduate/professional courses in excess of the 30-hour minimum to be shared with, or double-counted, toward both degree programs.
A complete listing of Florida State University's colleges, schools, departments, institutes, and administrative units can be found here.
Those seeking information on responsible conduct of research and scholarly integrity can find a range of resources on this page.
The graduate certificate programs, ranging from 12 to 21 credit hours, are designed to allow students to take courses in an area of specialization, enhancing their academic and professional experience.
Review Clearance Procedures, Dates & Deadlines, Thesis, Dissertation, and Treatise workshops, and more.