Join us in congratulating the
2021 Three Minute Thesis Winners and Finalists:
(Click links below to view videos)
 

First place:
SECOND PLACE (TIED):
PEOPLE'S CHOICE:
OTHER FINALISTS:
---
The Three Minute Thesis (3MT™) is a research communication competition developed by The University of Queensland, Australia. The exercise develops academic, presentation, and research communication skills and supports the development of students' capacities to effectively explain their research in language appropriate to an intelligent but non-specialist audience.
Doctoral students have three minutes to present a compelling oration on their dissertation topic and its significance. 3MT™ is not an exercise in trivializing or 'dumbing-down' research but forces students to consolidate their ideas and crystalize their research discoveries.
3MT™Finalists are eligible for one of the three awards: 1st Place ($1,000), 2nd Place ($750), and the People's Choice ($500) selected by the audience.
---
Helpful Resources
Click here to view the Three Minute Thesis Virtual Competition Handbook
Important Dates & Deadlines
3MT™ Eligibility
Currently enrolled doctoral students at Florida State University will be eligible to participate in the 3MT™. Graduates and master's students are not eligible.
3MT™ Prizes
Winner
Runner-up
People's Choice (selected by the audience)
3MT™ Rules
 A single static PowerPoint slide is permitted (no slide transitions, animations or 'movement' of any description).
No additional electronic media (e.g. sound and video files) are permitted.
No additional props (e.g. costumes, musical instruments, laboratory equipment) are permitted.
Presentations are limited to 3 minutes maximum, and competitors exceeding 3 minutes are disqualified.
The decision of the judging panel is final.
Judging Criteria
Comprehension and Content: Did the presentation help the audience understand the research and was the thesis topic and its significance communicated in language appropriate for an intelligent but non-specialist audience? 
Engagement and Communication: Did the oration make the audience want to know more? 
Other U.S. schools with 3MT™ competitions
Emory University 
Purdue University  
University of Georgia 
---
Congratulate the 2020 Three Minute Thesis Winners and Finalists
First Place Winners (Tied):
Mark Duslak

, Educational Leadership & Policy Studies (Mixed Messages: Perceptions of Academic Advising)

Matthew Martenson

, Nutrition, Food, and Exercise Sciences (Does Stretching Improve the Effects of A Walking Program in Patients with Peripheral Artery Disease?)
Second Place Winners (Tied):
Kelly Graham

, Earth, Ocean & Atmospheric Science (Arctic Carbon Dioxide in Our Changing Climate)

Elham Shekari

, Urban & Regional Planning (Transit-Oriented Development and Obesity)
People's Choice Winner:
Yin Zhang

, Earth, Ocean & Atmospheric Science (Origin of Magma in the Western United States)
Other Finalists:
Temidayo Abiola Oloye

, Materials Science and Engineering (Visualizing Better Superconductors)

Chris Omni

, Art Education (Black Womxn and F.L.Y.ing Lessons: First Love Yourself)

Annie Reynolds

, Nursing (Examining APRNs' Prescribing after Florida Legislative Changes)

Wen-Chi Shie

, Public Administration & Policy (Revitalizing Rural America: A Community College Collaboration)
---
Videos of  Past 3MT™ Finalists
Fall 2019 3MT™ Winners
Judges selected Alyssa Henderson, a doctoral student in the Department of Physics, and Sara Jones, a doctoral student in the Department of Biomedical Sciences, as this year's first-place winners. They each earned a $1,000 prize and advance to a regional competition. It is the first time dual winners have been selected at the competition, which The Graduate School has organized since 2014.
Henderson explained her work developing quantum materials, which are substances that behave differently than normal materials and for which quantum mechanics — the physics that govern subatomic particles like protons, electrons and others — are essential to understanding their properties.
From the centuries-old creation of bronze to the inventions of today that build solar panels, spaceships and more, "Humans are always making better materials," Henderson said. "That's what I do."
She works with materials in which the arrangement of atoms has a special geometry that gives them unusual qualities.
Jones explained her research on how the artificial sweetener aspartame could cause anxious behavior that fathers may pass down to their offspring. She studies how exposure to aspartame affects whether certain genes are turned on or off, and how those changes are passed to descendants, a concept known as transgenerational transmission.
"I hope this research gets us thinking about that concept," she said. "It has global implications for today and for generations to come."
Bryan Keller, a doctoral student in the Department of Earth, Ocean & Atmospheric Science, won second place for his presentation on how sharks use the Earth's magnetic field to navigate. He received a $750 prize.
Grace Kennedy, a doctoral student in the Department of Psychology, claimed the "People's Choice" award and a $500 prize for her presentation about weight stigma in anti-obesity campaigns. Read more about the winners!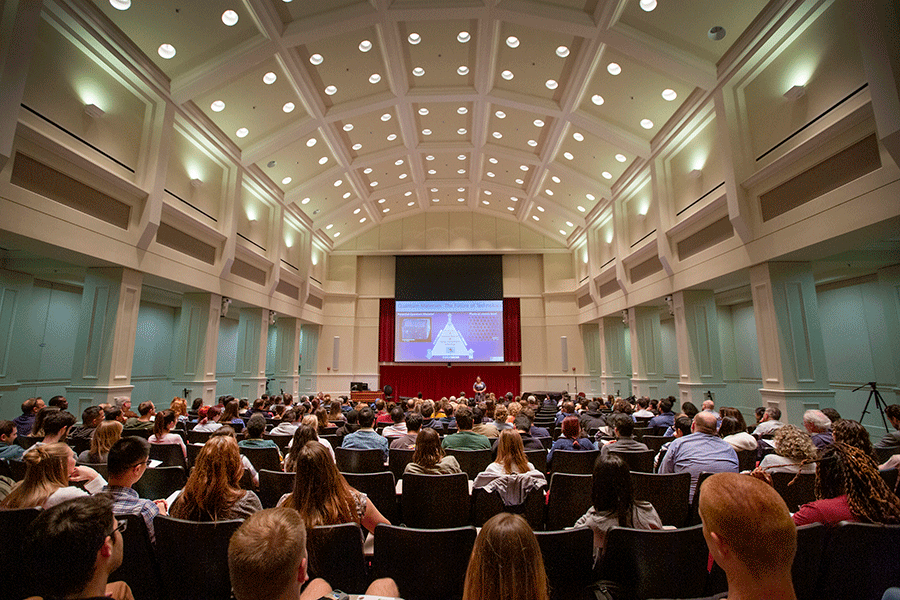 Fall 2018 3MT™ Winner
Florida State University doctoral student Eve Humphrey left judges and attendees with a smile as she closed her Three Minute Thesis speech at the annual competition, Tuesday, Nov. 27.
"When under pressure, just keep swimming and getting it on," she said.
Humphrey, a biological science student, took home the $1,000 prize and will represent Florida State at a regional competition in Knoxville in February.
Humphrey's prize-winning presentation, "Under Pressure: Stress and Coloration as Mediators of Behavioral and Physiological Variation," highlighted how differences within and between populations of Least Killifish and Eastern Mosquitofish influence their behavior, reproduction and stress responses with predators. Read more about the winners!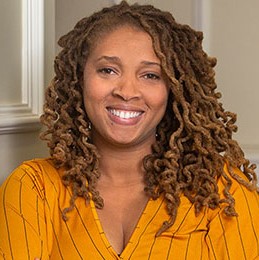 Fall 2017 3MT™ Winners
An education doctoral student took home the first-place prize for the Three Minute Thesis (3MT™) competition at Florida State University, Wednesday, Nov. 29.
Shannon Gooden, a doctoral student in FSU's School of Teacher Education, won the $1,000 prize and the opportunity to represent Florida State at a regional competition in February.
"It's so humbling," Gooden said. "There were so many amazing talks and pieces of research. This is the first time the College of Education or the School of Teacher Education has had a winner to my knowledge, so it's not only humbling to be representing them, but to represent the university as well. I can't take that for granted." Read more about the winners!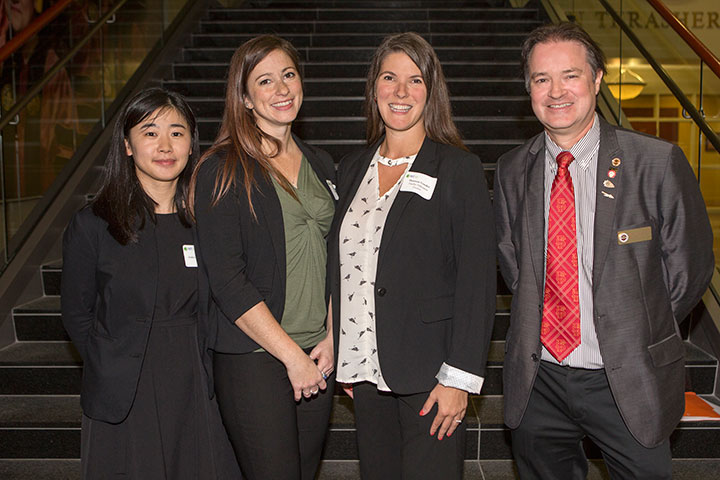 Fall 2016 3MT™ Winners
Florida State doctoral student Madhuparna Roy is the winner of the university's 2016 Three Minute Thesis (3MT™) competition. Roy confidently walked on stage and without a hint of nervousness, explained to the crowd in the allotted three minutes how her research would make planes safer in stormy weather. She aced it. Roy's clear, succinct "elevator speech" won the competition in the Durell Peaden Auditorium in the College of Medicine Research Building on Nov. 29. Read more about the winners!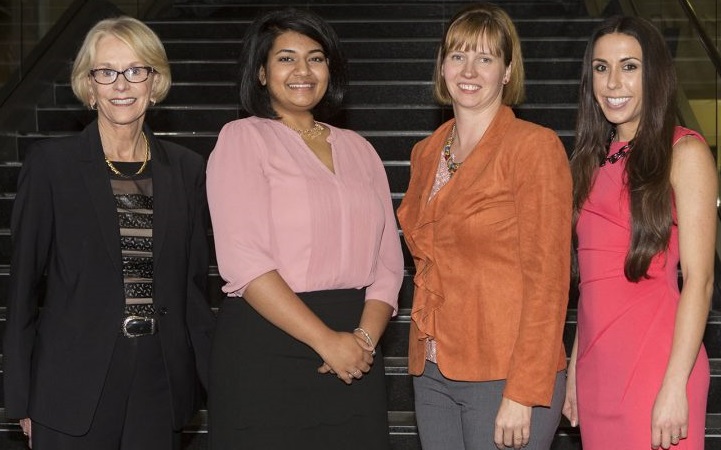 Fall 2015 3MT™ Winners
Aniket Ingrole, who is earning his doctorate from the Department of Industrial and Manufacturing Engineering at the Florida A&M University-FSU College of Engineering, won first place in the 3MT™ competition that challenges doctoral students to present their voluminous dissertations in three minutes. Ingrole — "You don't want to get nervous when you get in front of a crowd this big," he said. "It took some time because English is not my mother tongue." Read More about the winners!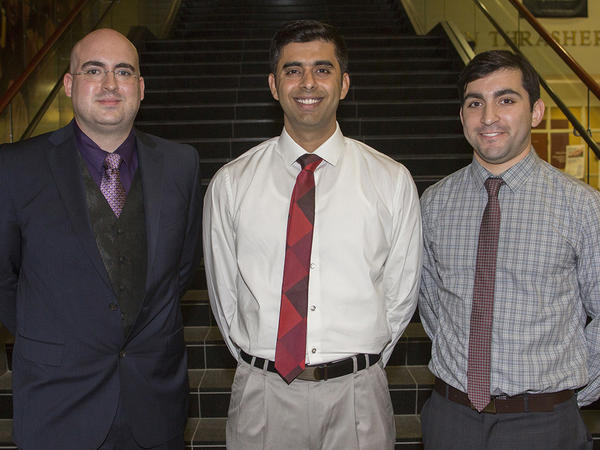 Fall 2014 3MT™ Winner
Kimberly Smith, a doctoral candidate in the neuroscience program, won the first place $500 prize for her thesis presentation on "A Behavioral and Molecular Examination of 'Umami' Taste." Smith's thesis examines taste receptors in both mice and humans and whether it's possible to harness the "umami" taste in things like children's medicine, for example."My research, I think everyone can relate to because everyone loves food," Smith said. Michael Mitchell (Computer Science) won second place and J. Hendry Miller (History) won People's Choice. Read more about the winner!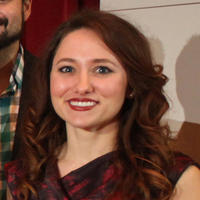 title-inside title-centered
2