College of Law
Juris Doctor (JD) Degree - The Juris Doctor (JD) degree is awarded by the College of Law to students who have satisfactorily completed coursework and related requirements equivalent to three academic years of full-time enrollment.
Potential candidates for this professional degree are selected on the basis of Law School Admission Test (LSAT) scores, undergraduate grades, letters of recommendation, and goals of the students seeking admission, as communicated by personal statements. Successful completion of a bachelor's degree program at a regionally accredited institution is a prerequisite for law school admission.
The legal curriculum is designed to fit the goal of providing students with the professional skills and core knowledge necessary to engage in legal or law related careers, while complying with standards prescribed by the American Bar Association and the Florida Bar. The first-year curriculum is comprised entirely of required courses in core subjects, and the second- and third-year curricula are primarily comprised of elective courses. Apart from the first-year curriculum, graduation requirements include coursework related to professional responsibility, upper-level legal writing and skills training, as well as pro bono service.
---
College of Medicine
Doctor of Medicine (MD) Degree - The mission of the College of Medicine is to educate and develop exemplary physicians who practice patient-centered health care, discover and advance knowledge, and are responsive to community needs, especially through service to elder, rural, minority, and underserved populations.
The first two years of medical school, the basic sciences and early clinical exposure are taught at Florida State University and housed in the John D. Thrasher College of Medicine Building. Years three and four are community-based and focus on clinical training. The community-based model ensures that students receive training in a variety of practice settings including rural and inner-city hospitals, nursing homes, residency programs, clinics and doctors' offices. Clinical training sites are located in Tallahassee, Pensacola, Orlando, Sarasota, Daytona Beach, Ft. Pierce, several Family Medicine Residency Programs, Marianna, Immokalee, and several other rural communities. Students are connected to the College of Medicine and the respective regional campuses through Internet access, videoconferencing and hand–held data units. Through these units, students can access medical information, communicate with the College of Medicine main campus, and record and evaluate their clerkship and preceptorship experiences.
---
College of Nursing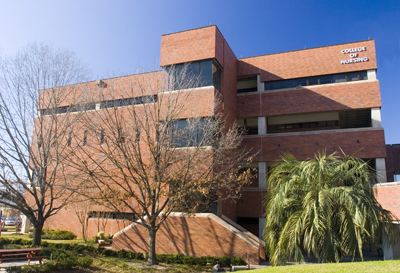 Doctor of Nursing Practice (DNP) Degree- The College of Nursing was founded in 1950 and its baccalaureate degree nursing program was nationally accredited in 1952. With over 7,000 graduates, the College has a proud history of preparing nurses for professional practice and research in diverse settings.
The Doctor of Nursing Practice (DNP) degree is designed to prepare nurses for the highest level of clinical practice in the profession of nursing as a Family Nurse Practitioner. The program includes a total of 83 credit hours of post baccalaureate study and 1005 clinical hours. The program is designed in accordance with the American Association of Colleges of Nursing (AACN) Essentials of Doctoral Education for Advanced Practice Nursing (2006).
title-inside title-centered
2