"Graduate study is a time of exploration and immersion in a particular specialty. It is a time for the free exchange of ideas, acquisition of new skills, and creation of new knowledge."

— Nancy Marcus, Past Dean of the Graduate School (2005-2017)
New Students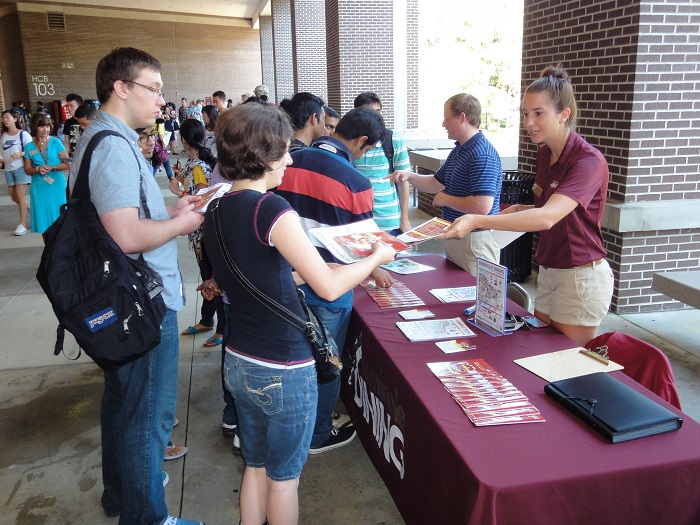 Welcome to FSU! To facilitate a smooth transition into graduate education at Florida State University, here is some helpful information on the FSU community, resources available, and a checklist of must-dos.
Stay informed about graduate education at Florida State University by viewing the Graduate School Information Packet. It contains information regarding our commitment to diversity, funding your graduate education, resources available, and more.
---
FSU Graduate and Professional Degrees
Currently, more than 8,500 students are pursuing graduate and professional degrees at FSU. Florida State University offers roughly 121 master's ,78 doctoral, and a variety of specialist, joint, combined and dual degree programs. Questions regarding specific program requirements should be directed to the Graduate Coordinator of your department and/or college/unit. 
---
More Information for International Students
The Center for Global Engagement (CGE) provides orientation, immigration advising and ongoing support to over 3000 international students and family members as well as to over 400 international scholars and faculty. CGE also offers a variety of educational, social and cultural programs for all students throughout the year. Their goal is to promote interaction among students of all cultures and help develop a culturally enriching learning environment throughout the FSU community.
The Center for Intensive English Studies (CIES) is an English language school for serious students who want to succeed at an American university. Our highly qualified instructors all have Master's degrees in the field of Teaching English as a Second Language. In addition, we limit our enrollment to 150 students per session so that we can give you personalized instruction in a safe, friendly environment. CIES is part of the FSU Graduate School and all of our offices and classrooms are in one location on the campus of Florida State University. We hope that CIES can serve as the start of your higher education experience in the United States. For enrolled international graduate students who have not met the standard for being a TA, English courses are available in the Fall, Spring, and Summer semesters. Course descriptions can be found by clicking here . International graduate students who wish to improve their English skills may also take the courses if seats are available. Please contact the International Teaching Assistant (ITA) Program coordinator for permission and seat availability. The ITA Program also offers workshops for international graduate students in the Fall and Spring semesters. The ITA workshops can be found by clicking here . Registration may be required.
---
More Information for Student Veterans
The Student Veterans Center serves as the focal point for all campus veteran support services, from transition assistance, to VA benefit certification, to educational assistance. The Center also promotes awareness of Seminole veteran heritage and veteran related issues to campus and alumni populations alike.
C.W. Bill Young Veteran Tuition Waiver Program - The C.W. Bill Young Veteran Tuition Waiver Program mandates that any Florida College System institutions must waive out-of-state fees for any honorably discharged veteran of the U.S. Armed Forces, U.S. Reserve Forces, or the National Guard who physically reside in the state while enrolled. 

An honorably discharged veteran of the U.S. Armed Forces, U.S. Reserve Forces or the National Guard who physically resides in the state while enrolled in a Florida College System institution is eligible to receive the fee waiver. 

For more information about this program, please contact the Student Veterans Center at VeteransCenter@fsu.edu or (850) 645-9867
title-inside title-centered
2